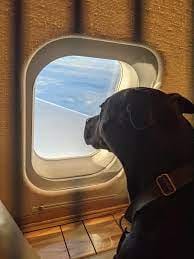 If there is one thing people love, it's their pets. Delta Air Lines is well aware of this and has announced it will offer pet GPS tracking on select flights.
Sendum Wireless designed the PT300, and up to 10 airports will offer the service that will cost $50 per flight. The company hopes it will provide pet parents much-needed peace of mind when their furry child is flying the friendly skies.
The device attaches to your pet's crate, and then it can divulge location, temperature, and whether or not the crate is right-side-up among other things. You can check on your pet via website, and  if a problem arises, a notification is sent to you and an alert is sent to Delta's call center.
Currently, the option isn't available for pets traveling as checked baggage but is available for animals traveling as cargo at LaGuardia in New York, Atlanta, Detroit, Memphis, Cincinnati, Los Angeles, Minnepolis/St. Paul, Tampa, Seattle, and Salt Lake City.
Are you concerned about tracking other precious cargo like business shipments or deliveries? Consider GPS fleet tracking and know where your drivers, vehicles, and products are at all times. Call FieldLogix at (888) 803-0200 for a free quote today.