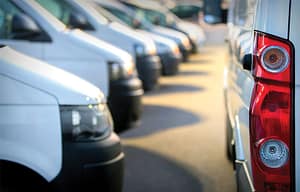 Small businesses carry a lot of costs when it comes to managing a vehicle fleet, including insurance, fuel, repairs, and ongoing maintenance. Investing in a fleet management system will help small business owners and managers in a wide variety of ways and is one of the best investments a small company with a fleet can make.
GPS Tracking
One of the main benefits of fleet management is having a GPS tracking system in each vehicle. First and foremost, it ensures employees stay on route and don't make any unnecessary or unapproved stops. It also allows managers to adjust routes for unexpected deliveries or pick-ups, and GPS tracking can also help recover a stolen vehicle.
Improved Fuel Economy
A fleet management system will monitor how much fuel each vehicle is consuming as well as the miles per gallon. The system can also track the length of time a vehicle spends idling, speeding, and aggressive driving among other things. The statistics for each can help managers and owners see what's leading to excessive fuel consumption, identify safety issues, and address risky driving behavior.
Engine Diagnostics and Ongoing Maintenance
Fleet vehicles put on quite a few miles over the course of a year, and that can lead to a lot maintenance. A fleet tracking system can alert owners and managers to maintenance needs like brake replacement, tire rotation, and oil changes. Ensuring basic maintenance is done in a timely manner will help prevent larger, costly repairs and extend the life of the vehicle.
For more information on how fleet telematics can help your business, give FieldLogix a call at (888) 803-0200. A friendly representative can answer your questions, discuss the benefits of eco-matics, and show you how a fleet system can benefit your business.