When Jake Ackerman purchased Central Jersey Equipment, a John Deere dealership, the company had been in business for over 30 years and included several seasoned employees that were "too set in their ways." At the time, Mr. Ackerman said managing his mobile employees and equipment was a daunting task and he "needed more control" so he decided to purchase FieldLogix's GPS fleet tracking system.
Mr. Ackerman said, "You can't manage what you don't measure. FieldLogix's tracking system has helped me to see which employees are the most effective and which ones are not. Now payroll is based on hours spent working, not just hours clocked in, so there's real accountability. Not only are we saving money, but we can reward the drivers who are delivering the best results."
"Inefficiencies, less than optimal operations and waste comes in many forms, and FieldLogix gives us an easy way to identify problems and make improvements. For example, we monitor the routes employees have driven, start and stop times, and daily miles driven," Ackerman further stated.
FieldLogix's fleet GPS tracking system offers daily reports, alerts, and minute-to-minute updates provide the information you need to make smart decisions at a moments notice, such as: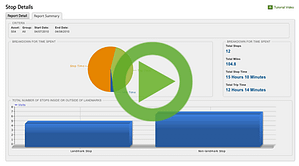 – Late Starts
– Long Lunch Breaks
– Excessive Idle Times
– Poor Driver Routing
– Speeding
– Unsafe Driving
– Unauthorized Vehicle Use
– Exaggerated Time Sheets