A wrongful death lawsuit claimed in Cook County, Illinois, against Hussmann Corp. resulted in a $22.7 million award by the jury. Aaron Swenson, a 31-year-old private investigator, was stopped in morning traffic when a fleet van rammed Swenson's vehicle into the truck stopped ahead.
His wife, Theresa Swenson, later filed a lawsuit charging negligence against both Hussman Corp. and fleet driver, Troy.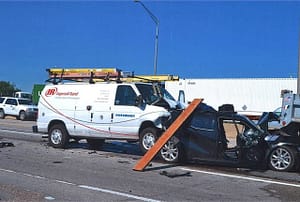 This photo of the crash scene was entered into evidence during the trial. Photo courtesy of Clifford Law Offices.
Attorney Colin Dunn pronounced during the press conference that, "the Illinois State Police lab showed there were multiple narcotics in [Troy's] blood." Then, after urine test results, Troy, he added, had marijuana in his system.
Data reveals Troy was traveling 57 mph when the fleet made impact and no brakes were applied — although traffic had been at a stop for quite some time. Dunn shares, "within three seconds of the impact he had actually hit the accelerator," triggering a five-vehicle collision. Utilizing fleet GPS tracking ensures safety and answers questions otherwise difficult to attain.
The jury took only three hours to reach its verdict and the trial held in Chicago ended in two weeks. Theresa Swenson insight-fully mentions, "vans can kill, you have to monitor your drivers, and that you have to screen them more carefully."
Specializing in refrigeration systems and display, Hussman Corp., implements a drug-testing program, however the attorney distinguished it as insufficient.
With a history of speeding tickets, it is believed that, "what happened that morning was [not] an aberration," stated Dunn.
Swenson's case was reinforced by another lawsuit filed by Joseph LeSanche, the driver that was ahead of Aaron Swenson. LeSanche's attorney argued for his critical back injuries and chronic pain that requires lifelong treatment. LeSanche was awarded $12.3 million.