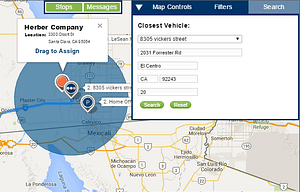 We are announcing the release of several new features to Fieldlogix!
You shared and we listened so no more waiting, here they are:
Drag & drop stop assignments
Simply type in an address to search for the closest driver to a destination. You can now drag and drop the destination to the driver you want to assign it to and it will be sent to their mobile device. This saves you valuable seconds in the amount of time it takes to assign new stops to your drivers.
New API for post landmark
If you are using an API, you can now send your customers' locations to FieldLogix via our open API. This eliminates manual entry of landmarks.
New API for route list
You can also use an API to automatically send routes to FieldLogix to be sent to your drivers each day. This eliminates double entry when you are building your routes within another system and sending them to FieldLogix.
Posted speed limit enhancements
We added new filtering functionality to reduce the amount of false-positive speed limit alerts when vehicles are traveling on highways.
Please contact us at (888)802-0200 if you would like training on the new features.