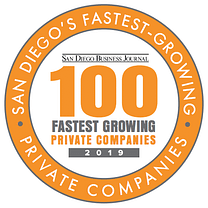 [San Diego, CA – July  30, 2019] Industry leading field resource management company, FieldLogix, has been named by the San Diego Business Journal as one of the Fastest Growing Companies in San Diego – again!
Each year San Diego Business Journal compiles a list of rapidly growing companies and ranks them according to revenue growth over a two year period. In 2009, FieldLogix made the 100 Fastest Growing list after a 60% increase in revenues from 2007 to 2008 and was recognized again in 2010.
This year, FieldLogix is being recognized for a 60% increase in revenues from 2018 to 2019.
"We are very proud to have made the 100 Fastest Growing list for the 3rd time. The increase in sales can be attributed to our focus on providing our customers with an innovative Field Resource Management solution and industry leading support", says Yukon Palmer, CEO of FieldLogix. "We continuously seek to not only exceed customer expectations, but provide new, innovative solutions that will help our customers increase efficiency, save time and get more done!"
About FieldLogix
Since 2002, FieldLogix has been one of the more enduring and efficient Field Resource Management companies in the industry. The Industrial Internet of Things (IIoT) company helps organizations improve the monitoring and managing of their mobile and fixed assets.   FieldLogix has grown rapidly to become a leading fleet management & mobility provider. FieldLogix has been profiled in numerous publications and selected as one of the 10 Most Innovative Fleet Management providers by Insights Success magazine. Their dedication to their customers' experience is the reason for their accomplishments and continues to drive their future success.
Talk to one of our service experts today to learn how our innovative technology can take your organization to new heights!