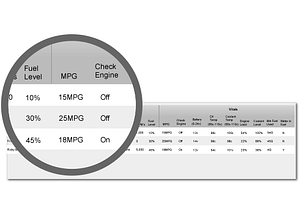 We are thrilled to announce FieldLogix's new feature, Vehicle Vitals. Now, businesses are able to enhance their vehicle's lifespan by successfully monitoring certain aspects of the engine and device well-being.
The vehicle vital updates include:
The Check Engine Light: Instant notification so you can immediately address Vehicle problems
Miles Per Gallon Usage: Closely monitor your drivers Fuel Efficiency
Battery Voltage: Stay on top of Battery health and know when voltage is low
Engine Coolant & Oil Temperature: Keep an eye on temperature levels and maintenance requirements
Current Fuel Amount: Easily manage your fleet's daily fuel levels
Device Health:  Monitor your GPS device's Signal and Strength
With these important vehicle analytics, management can readily keep track of their vehicle's conditions to further prevent any unnecessary damages to their vehicles. By taking advantage of these Vehicle Vital reports, businesses can save time and money from labor costs and vehicle costs.