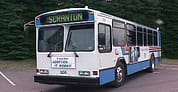 Public buses in Lackawanna will be getting a major upgrade this year. This week board members of the County of Lackawanna Transit System (COLTS) unanimously voted to invest $834,078 for a new real-time vehicle tracking system to "help the agency better monitor and manage its operations."
"The vehicle tracking system will allow COLTS to track and map its buses in real-time while also providing information about ridership. The system will automatically trigger audio and visual announcements on COLTS buses to alert riders of upcoming stops," said Executive Director Robert Fiume, reported by The Times-Tribune.
The tracking system offers a tremendous amount of efficiency in day-to-day operations, allowing review of arrivals and departures and can help COLTS better gauge the need for potential future route adjustments.
Installing of the vehicle tracking systems begins in March, with completion expected by the end of 2012.
COLTS is the operator of the mass transportation in the city of Scranton, Pennsylvania. The COLTS system operates twenty-eight routes, most of which operate from the Mall at Steamtown in Downtown Scranton. COLTS provides safe, affordable and convenient public transportation for the residents of Lackawanna County.