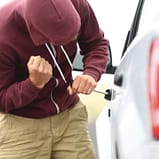 RLH Fire Protection designs, installs, inspects and repairs fire suppression systems throughout California. Their fleet of 50 vehicles is on the road frequently and operates out of the regional offices located in Bakersfield, Pleasanton, and San Francisco.
RLH began using FieldLogix in 2010 due to concerns about inaccurate time sheets, resulting in excessive labor costs. They also found supervising employees across a wide geographic area challenging and were desperate for a cost-effective and efficient solution.
In the past, they had tried using GPS cellular phones to track drivers, but found many drivers were turning them off throughout the day or intentionally "forgetting" them at home during the weekends.  FieldLogix Field Resource Management solved this problem by providing devices that were installed in each vehicle.
In addition to solving this reoccurring problem, RLH experienced a theft that was resolved with the help of FieldLogix. Eric Geye of RLH stated, "While performing an installation on a home, a neighboring house claimed that RLH employees stole his vehicle. He said that one of my vehicles was parked across the street from his house as his vehicle was being stolen. FieldLogix proved that our vehicle was actually sitting in our yard at the exact time of the theft. I then printed one of the system's reports and presented it to the police, his insurance company, as well as to the person claiming this."
Eric also mentioned that a company they recently acquired has been using the Teletrac system to monitor their vehicles. After experiencing both systems, he confidently stated "FieldLogix completely blows Teletrac out of the water from ease of use and system accuracy".
While improved usability and increased security are both benefits of FieldLogix's Field Resource Management system, it also helps decrease fuel consumption, increases overall business efficiency, provides management with more control, and ultimately holds drivers accountable for their actions.