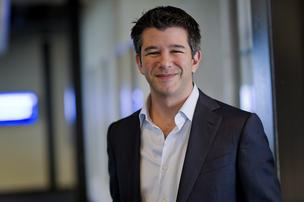 Just a day after Google launching its driverless prototype, Travis Kalanick, CEO of Uber, shared his vision of a driverless fleet one day. Although it's a ways off, he knows one day Uber drivers won't be necessary. He also believes that car ownership will be a rarity.
Kalanick voiced his thoughts at the Re/code Conference saying, "The reason Uber could be expensive is because you're not just paying for the car — you're paying for the other dude in the car. When there's no other dude in the car, the cost of taking an Uber anywhere becomes cheaper than owning a vehicle. So the magic there is, you basically bring the cost below the cost of ownership for everybody, and then car ownership goes away."
An unrelated announcement made Wednesday revealed a partnership between Uber and AT&T that will lead to the Uber app being embedded on 50 million Android phones starting in the summer.