As draughts continue, the impact to hay farms compounds, making the price of hay bale skyrocket. All across the nation, the price of hay has risen from $15 to $25 up to $300 a ton in some areas.
According to Custom Hay Operator, Carl Martin, of California, "now that the crop is worth over $200 a ton, those growers are losing $200 to $300 of product every time they get ripped off."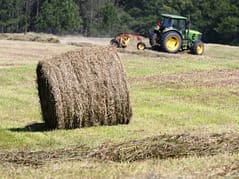 In Tillman County, Oklahoma, the price of a bale of grass hay has changed from $15 to $25 to up to $70 a bale. Alfalfa prices have also increased dramatically, from $45 to $60 to about $150.
These higher prices have led to more hay being stolen.
To help prevent losses, Sheriff Bobby Whittington of Tillman County, placed a unit of their GPS tracking system into a bale belonging to a local farmer who thought his hay was being stolen. Sheriff Whittington programmed the GPS to send a text to his cell phone if it was removed from the farmer's area. At about 9:40 PM, he received  text message. With the assistance of another officer, Sheriff Whittington was able to track the hay bale's location as it traveled.
Whittington said, "I arrived in time to see the suspect vehicle kind of drop the bale off behind a house." He watched as the vehicle left, and followed to see if it might return to the farmer's field.
Trailing behind the suspects' vehicle, the sheriff watched as another bale was snatched.
When confronted, the suspects claimed that they owned the hay.
"That's not what the GPS says."
Then one of the suspects asked, "Well, can I just take it back and not go to jail?"
Sheriff Whittington said "No."
Because of the County's GPS tracking system, the two suspects now face felony charges of Knowingly Concealing and Withholding Stolen Property.
Source:  www.npr.org/blogs/thetwo-way/2012/12/05/166479226/hay-thefts-soar-as-drought-deepens