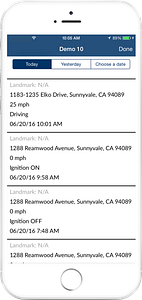 Now that you are finishing the busy summer months, we thought it would be beneficial to add a new feature to our mobile app.  You can now view up to 15 days of your drivers' past activity from our iPhone and Android mobile apps.
What does this mean?
Along with tracking drivers in real-time, now you can review your vehicles' travel history! Go as far back as 15 days to view previous activity.
Reviewing your driver's travel history gives you the ability to spot check recent activity to ensure that your employees were doing what they were supposed to be doing and when. Download our app (or the update if you already have it) to start taking advantage of this new feature today!

Please contact us at support@fieldtechnologies.com if you would like training or have questions on the new feature.