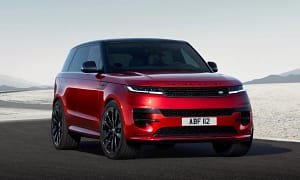 Jaguar Land Rover will soon give drivers a 360 degree view from inside the car. The automaker has been testing its "360 Virtual Urban Windscreen," which gives drivers an unobstructed 360 view through the use of transparent roof pillars and "ghost car" navigation.
Screens embedded in each pillar take live video from the angles typically obscured by pillars creating blind spots. In theory, this means other vehicles, pedestrians, and cyclists would always be visible to the driver. When a driver indicates a change of direction and moves their head to check the blind spots, the system would automatically make the pillars transparent.
The virtual windscreen in the vehicle also connects to the Cloud, providing drivers information like gas prices and parking availability. The smart navigation could also give drivers clearer landmarks, like restaurants or shops, at which to turn. The "Follow-Me Ghost Car Navigation" projects a vehicle image in front of the car for the car to follow turn-by-turn to the destination.
Dr. Wolfgang Epple, director of R&D at Jaguar Land Rover, says, "Driving on city streets can be a stressful experience, but imagine being able to drive across town without having to look at road signs, or be distracted trying to locate a parking space as you drive by. We want to present all of this information on a Heads-Up Display in the driver's eye-line, so the driver doesn't have to seek it out for themselves and take their eyes off the road ahead."