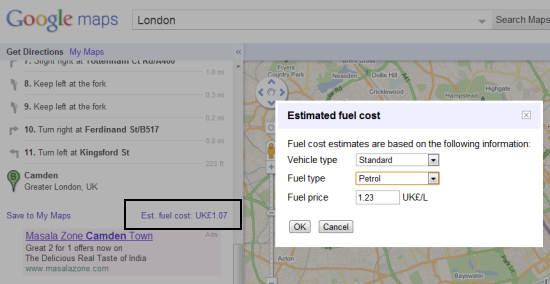 Google Maps (GOOG) just launched a Fuel Cost Calculator to driving directions for Google Maps in Europe. Google's new Fuel Cost Calculator can be used to estimate the average fuel cost for your journey. When a user asks for driving direction between two locations on the map, it shows an estimate of how much cash your have to spend in order to procure fuel for the journey. The estimated fuel cost appears at the bottom of the list of driving directions.
This new tool can be very helpful for many reasons.  With rising gas costs on the horizon (Oil is expected to top $100 a barrel  this year.) it would be nice to be able to plan your trips taking gas costs into consideration. If utilized properly, this new tool can help you to become aware of your carbon footprint, and  gives you the opportunity to really cut your gas costs, which is a great incentive to take the time to plan your trips more efficiently.
How to use the fuel cost calculator in Google Maps:
Once you have plotted the traveling points in Google Maps,  you scroll down to the bottom of the driving directions you will find a link to the fuel cost estimates. If you click on the link, it will let you adjust the price per liter. Then click the "Fuel cost calculator" link in the left sidebar. The tool will then show an estimated fuel cost required for the journey.
Unfortunately the fuel calculator is only available in Europe, and is not yet available in the US, Canada or Australia.  I would not be surprised if Google added the fuel cost calculator to other continents over the next year.
FieldLogix and Google Maps
FieldLogix real-time GPS fleet tracking system is integrated with turn-by-turn driving directions powered by Google Maps. FieldLogix's integration with Google maps is the most user-friendly in the market. You can save favorite map views, view real-time traffic, view satellite images, and watch your vehicles as they move throughout the day. Also, with Google Street View, if you are wondering where your vehicles are parked, you can view their location in Google street view mode. You can also use our Google maps integration to optimize and dispatch your routes to your drivers' mobile devices.
FieldLogix is all about driving business efficiency. FieldLogix, an industry leading GPS fleet tracking system, is integrated with Google Maps. Google Maps is one of the best distance measurement tools out there. All you have to do is enter the name of the location and you get a wide number of options e.g knowing the position, latitude, longitudes, driving directions and suggested routes between two points. Google Maps can also  give you walking directions or alternative routes.