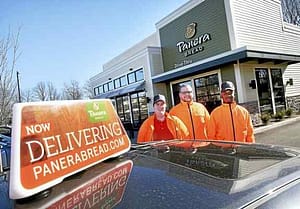 Today there are financially rewarding benefits for restaurants adding food delivery to their services. On one hand delivery is faster and easier for customers but, on the other, it is a different business model for restaurants.
Restaurants everywhere are wondering…is delivery worth the investment?
Restaurants like Panera say yes.
Panera (NASDAQ:PNRA) projected an increase of $250,000 per store. As a result, they plan to employ 10,000 new delivery drivers and apply in-house delivery to 35% to 40% of their locations. Full article about it here.
Due to our experience and partnerships with food delivery companies, we were able to collect information to understand the pros and cons of food delivery services. Restaurants can choose to deliver through a third-party such as Uber Eats, Grub Hub, and Door Dash or, go the way Panera is going with in-house hiring and training. We analyzed both options and their impact on success.
What to expect with a third-party:
Pros: Low startup cost, quicker to start, existing 3rd party users
Cons: Not personalized, more competitive, loss of branding, high cost per delivery
What to expect with in-house company trained drivers:
Pros: Quality control, personalized, manage customer experience, marketing channel opportunity, lower cost per delivery
Cons: Higher investment, liability, mileage tracking
What's Next?
To help restaurants take their next step into delivery FieldLogix provides workforce management software. With their innovative app, "Hey Goose!," restaurants have the ability to deliver quality food, stay on top of mileage for compensation, and keep their brand name safe.
For questions or support on how to manage restaurant fleet please contact us at learnmore@fieldtechnologies.com or (888) 803-0200.