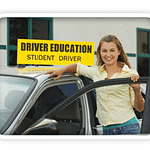 According to the 2010 Green Fleet Survey by PHH Arval, improving driver behavior is one of the most important ways that fleets are reducing emissions. Seventy-four percent of fleet managers reported they are depending on drivers to help meet their fleet's environmental goals. The most common type of communication has been to educate drivers on how their driving behavior can impact fuel economy.
It would be virtually impossible to measure and improve driver behavior without the use of a telematics enabled GPS Fleet Management System. Using vehicle telematics systems, fleets are able to monitor and analyze valuable information about driver behavior, vehicle routing and fuel efficiency. All of this information is critical business insight to help fleet managers minimize risk, expenses and emissions.
Telematics enabled GPS Fleet Management Systems give fleet managers the feedback necessary to engage drivers about their driving performance and provide coaching on how to improve safety, efficiency and reduce their carbon footprint. Smart fleet managers are combining on-board safety monitoring with behavioral coaching to help reduce the amount of risky and wasteful driving behavior.
Telematics based GPS Fleet Management Systems provide fleet managers with valuable data while providing the driver with information about the route. The data could include everything from engine diagnostics, idle time, fuel economy, tracking emissions data, and cargo information – such as temperature and trailer location – to detailed routing information, GPS, erratic driving, and real time traffic details for drivers.
In order to effectively reduce emissions from the fleet, telematics are being used by fleet managers to help them reduce the time that vehicles are idling either through rerouting to reduce traffic stops or reducing idling while drivers do their job, such as shutting off an engine while making deliveries. In some telematics systems, the fleet managers can keep the vehicles' engines operating efficiently by being notified when vehicles are in need of service, and reduce risk by monitoring driver behavior.